If you could only drive one car every day for the rest of your life, what would you choose?
Don't get me wrong, there are a lot of good answers here, Porsche 911, Range Rover. I can even get behind a more frugal choice like the delightful little Volkswagen GTi. But following a week with the Mercedes-AMG E63 S Wagon -- a 603-horsepower station wagon -- I might have found my new go-to answer.
Mercedes' 4.0-liter twin-turbo V8 is one of my favorite engines. Its brute force is complemented by a robust growl, and the combination makes for the most muscular attitude of all the current German V8s.
In a play to the hearts of enthusiasts everywhere, Mercedes shoves that big engine into its E-Class wagon, where it's good for a staggering 603 horsepower and 627 pound-feet of torque. With a 9-speed automatic transmission sending that power to all four wheels, this 4,700-pound station wagon can sprint to 60 miles per hour in just 3.4 seconds. That's a hair quicker than Merc's insane

AMG GT R

, meaning supercar acceleration in family hauler form.
Of course, the E63 Wagon isn't just about straight-line speed. Yes, it'll rocket off the line with tremendous authority, the transmission firing off quick upshifts with assertive precision. But throw it into a turn and the whole car hunkers down, the 265/35-series Michelin Pilot Super Sport tires providing incredible grip, the traction control strict enough to keep everything copacetic, but not so castrating that it won't allow for a little bit of playful slip.
Behold the E63 Wagon's glorious 4.0-liter heart. This sweet, sweet V8 produces 603 horsepower and 627 pound-feet of torque.
The E63 S Wagon's multi-chamber air suspension uses continuously variable damping, with Comfort, Sport and Sport+ settings. Comfort strikes the best balance for daily driving, but along the canyon roads north of Los Angeles, Sport and Sport+ don't stiffen the ride so much to upset the superb balance, or worse, make the wagon jittery over rough pavement. Mercedes' Dynamic Select toggle on the center console lets the driver switch between a similar suite of driving modes -- Comfort, Sport, Sport+, Individual or Race -- and during the sort of back-road blasting I'm enjoying during a warm California afternoon, Sport+ really strikes the best balance. It keeps the 4.0-liter engine on boil all the time, and the mode-specific transmission mapping is perfectly matched to my aggressive behavior. Back on the freeway, Comfort still offers enough gusto to remind you that this is a super-fast AMG. And if you aren't driving this thing with the active sport exhaust open at all times, well, you're doing it wrong.
Good as the engine and chassis are, they're matched with nicely weighted (though ever so slightly numb) steering and brakes are powerful enough to promptly halt you from ludacris speeds. The wagon doesn't feel quite as naturally tail-frisky as the AMG E63 S Sedan, but I'll chalk that up to the 184-pound weight penalty, all of which is situated over the rear axle. Otherwise, it's the same raucous, hellaciously fun driving experience you'd expect from something with an AMG 63 badge. The wagon even gets the

E63 sedan

's ridiculous Drift Mode. Wee!
Every version of the E-Class is incredibly spacious and comfortable, with proper seating for four adults (or five, if you must). The wagon adds to that versatility with a capacious boot, one that'll carry 35 cubic feet of cargo with the rear bench upright, or a healthy 64 cubic feet with the seats folded flat.
Unfortunately, the E400 wagon's optional rear-facing jump seats don't carry over to AMG E63 duty. If you were hoping you could still get away with buying an E63 wagon while simultaneously fulfilling your seven-passenger seating needs, I like where your head's at, but you'll have to look elsewhere.
The E63 S Wagon is really a great alternative to a traditional five-passenger high-performance SUV (however "traditional" that may be). Consider, by comparison, Mercedes' own AMG GLE63 S. It costs about $3,000 more to start, but offers 3 more cubic feet of space with its rear seats erect, or an additional 16 cubic feet with the bench folded flat. That said, it's also heavier, less powerful, handles worse and doesn't look half as cool. Very important things to consider, friends.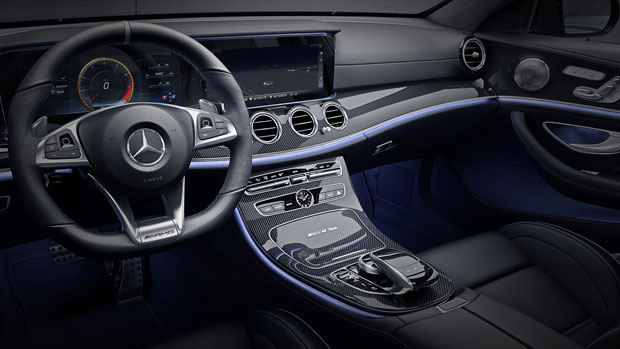 The E-Class' interior is already superb, with great design, high-quality materials and loads of tech. AMG-specific steering wheel and seats do nothing to upset that loveliness.
Comfortable and full of tech
The new E-Class' interior is wonderful, though it's perhaps at its best in AMG form. The slim AMG Performance seats are as comfortable as they are supportive, though they're also a $2,500 option. Open-pore wood accents and real aluminum trim match the rich leather appointments, and every single surface is both beautiful to behold and excellent to touch.
While baseline E-Class models can be had with a set of fixed gauges and one large infotainment display, the AMG E63 S Wagon only comes with the full-width, dual-screen setup. That means you get a pair of 12.3-inch high-res displays housed in one long screen that spans the width of the instrument panel and center dashboard, using the same Mercedes' COMAND interface that's found in lesser E-Class models (as well as the CLS- and S-Class sedans). I'm so ready for

MBUX

and its touchscreen functionality to proliferate the entire Mercedes-Benz lineup, but in the meantime, COMAND is mostly fine. The displays are huge and bright, not to mention reconfigurable, and must-haves like Apple CarPlay, Android Auto and a 4G LTE Wi-Fi hotspot are standard.
These matte black 20-inch wheels are a $1,700 option.
As you'd expect, the nearly $107,000 Mercedes-AMG E63 S Wagon already comes with a pretty solid list of standard equipment. But surprisingly, a lot of features -- namely driver's aids -- are still à-la-carte choices.
While I love the Dakota Brown exterior color (brown wagons, you guys), I have to go for Piedmont Green, a $720 add-on. Then, I'm adding the 20-inch matte black wheels seen on my test car ($1,700), the Advanced Lighting Package ($1,500) and AMG Night Package to black out some of those chrome elements ($750). I am absolutely not paying $450 for the stupid illuminated star. Inside, I want the Nut Brown/Black interior with aluminum accents (no cost), the $1,050 Warmth & Comfort package (heated everything) and the $2,500 AMG Performance seats. Finally, I'll take the $3,600 AMG Premium Package, which is a lot of money, but includes blind spot assist, lane change assist, Distronic adaptive cruise control, active braking assist, the surround-view camera, lane-keeping tech and a lot more. Oh, sorry, one more thing: I want the $1,250 AMG Performance Exhaust. Because loud.
All in, I'm spending $119,965 on my AMG E63 S Wagon, including $995 for destination. That's a lot of money, to be sure, but really, not as much as I was expecting.
You could buy a fast SUV, or you could buy something much cooler instead.
Like (almost) nothing else
Despite America's huge appetite for SUVs and crossovers, it's nice to see more and more automakers embracing the station wagon. There are a lot to choose from these days, with varying sizes and price points. But in the case of the Mercedes-AMG E63 S Wagon, it essentially exists in a class of two.
Porsche will happily sell you a Panamera Sport Turismo, and it's damn good. But if you want one with AMG-battling performance, you're looking at the Turbo Sport Turismo, which starts at $154,000, or about $47,000 more than the E63 S Wagon.
Not that the Merc's $106,950 starting price is any kind of bargain, mind you, nor is the roughly $130,000 as-tested price of the example you see here. You could buy a BMW X5M, Land Rover Range Rover Sport SVR or the aforementioned Mercedes-AMG GLE63 S for around the same money, but why? The E63 S is nicer inside, still has the four-season friendliness of all-wheel drive, seats just as many people with great comfort and will carry almost as much cargo.
You can have one car every day for the rest of your life. Is it going to be a super cool (and super rare) station wagon, or just another SUV?
Written by Steven Ewing